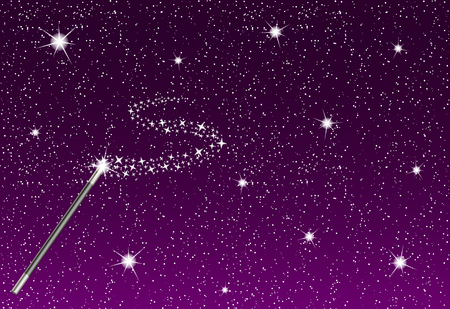 Going with the Magic
2017 Update
One of my favorite Lenten posts from my 2016 series was "going with the magic." In it I recount how viewing my streamlined collection of books was like " having a photo collage of my inner life." The magic refers to the bolts of insights that miraculously appear when you take the time to listen to what your tidied up choices are telling you.  
Reading Marie Kondo's book, it seemed improbable that anything more significant would happen to me than a bigger sense of calm from my tidied environment. But then it did, I can't really explain it, so I'm going with the magic! 
Marie Kondo Does Lent: Going with the Magic
This is the 6th post in the Marie Kondo Does Lent series. 
May your Ash Wednesday be marked with the reminder that there never seems to be enough time to do the things you want to do, so make the time
Ash Wednesday Sermon, 2016 Pastor Brad Motta
Sometimes there is so much to do, it is hard to answer the question "what do I really want to do?"  Surprisingly, I found a simple "tidying" of my books provided an almost magical level of clarity for me.
In her book, the life-changing magic of tidying up, Marie Kondo tells of a client who threw away all her English study books and kept her social justice books from High School. Seeing her social justice books freed from the captivity of clutter, Marie's client realized that she wanted to focus on a career helping people. So she quit her job and started a childcare business.
After donating about 50% of my books to the Morrow Church Turnover sale last year, some clear patterns emerged about what was important to me. It was like having a photo collage of my inner life, one that had been previously swallowed up in a jumble of books, some of which I never read.
I ended up with several small stacks of books that told a story about my interests over time. There was a stack about how to be a working woman in a man's world without losing your mind. It contained books like Pitch Like a Girl and Lean In. Fond memories of the first book I read in this genre, In a Different Voice by Carol Gilligan, flooded back to me. This book  profoundly changed the way I thought about men and women.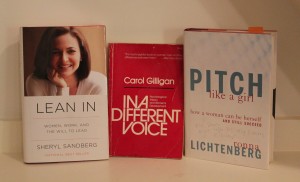 There was a stack of books that made me aware for the first time of my strong interest in the spiritual as I searched for a moral compass that made more sense to me than the unaccompanied bible did. I kept books like "The Road Less Traveled," by M. Scott Peck. I even delved into the mystical with Women Who Run with the Wolves, surprising for this very practical modern day church lady.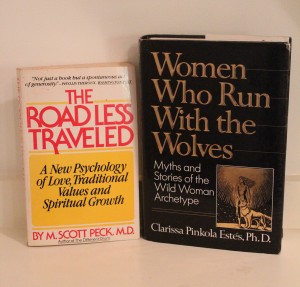 I had several stacks of powerful woman books. Books about insecure women thrust into public life who ultimately persevere to make a difference in the world, like Eleanor Roosevelt, Katherine Graham and Princess Diana, There were biographies about powerful feminists like Gloria Steinem and Betty Friedan.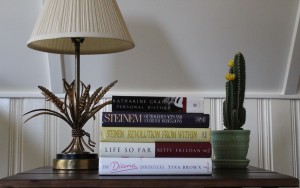 But the stack that spoke loudest to my future self was the stack of woman adventurers. The stack included:
The biography of Martha Gellhorn, one of the greatest 20th century war correspondents.
West with the Night, a memoir written by to Beryl Markham, the first woman to fly solo across the Atlantic from east to west.
These women captured my imagination because they had chosen to follow their passion, despite the danger, the social constraints and scorn they faced for their unconventional lives. While I have a strong penchant for travel, I had chosen a more traditional path, college, business school, a career in the pharmaceutical industry and marriage, complete with a house in the suburbs with 2 kids and 2 dogs.
These books clearly had a message for me, one that didn't hit me over the head like Marie's client but one that gently nudged me  towards a some different choices.Is it a coincidence that in the year following my book tidying that I went to Haiti twice and am getting ready to visit Sierra Leone in April amidst news of airport bombings and ebola outbreaks in neighboring countries?
Could it be a little of the "magic" that Marie Kondo says happens to you when you tidy up your life? Given my new awareness of my mystical side, I'm going with "the magic."