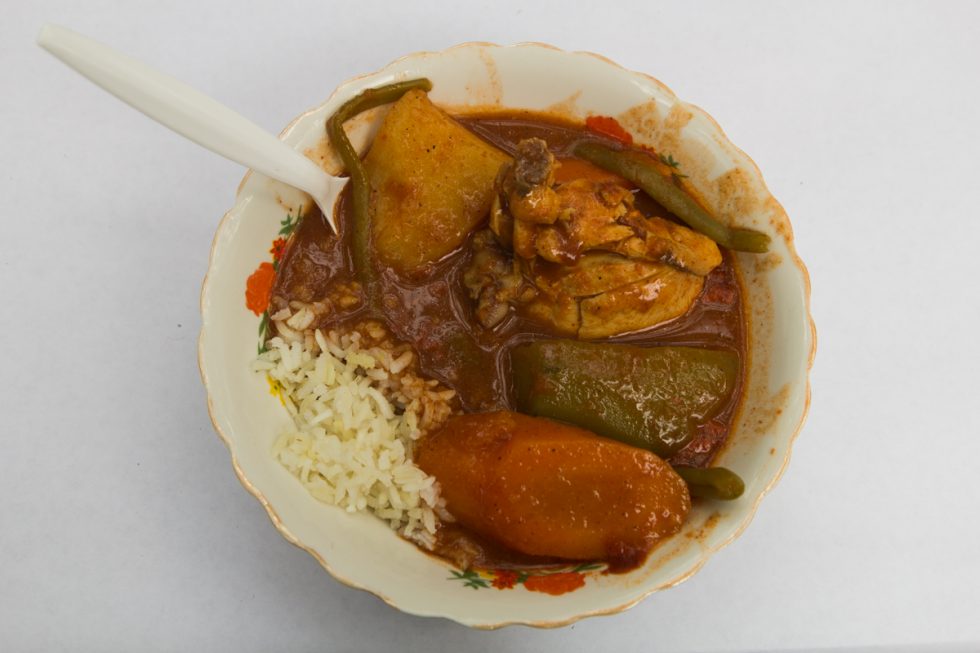 How to Make Delicious Guatemalan Chicken Pepian
The Modern Church Lady relives her travels to Guatemala by recreating a delicious Chicken Pepian dish. 
Along with remembering all the inspiring people I met on a recent pilgrimage to Guatemala, I can't stop dreaming of the delicious Chicken Pepian I devoured during my visit. Our group ate our first bowl  under dangling lilac colored orchids in a hillside village one hour outside of San Lucas Toliman.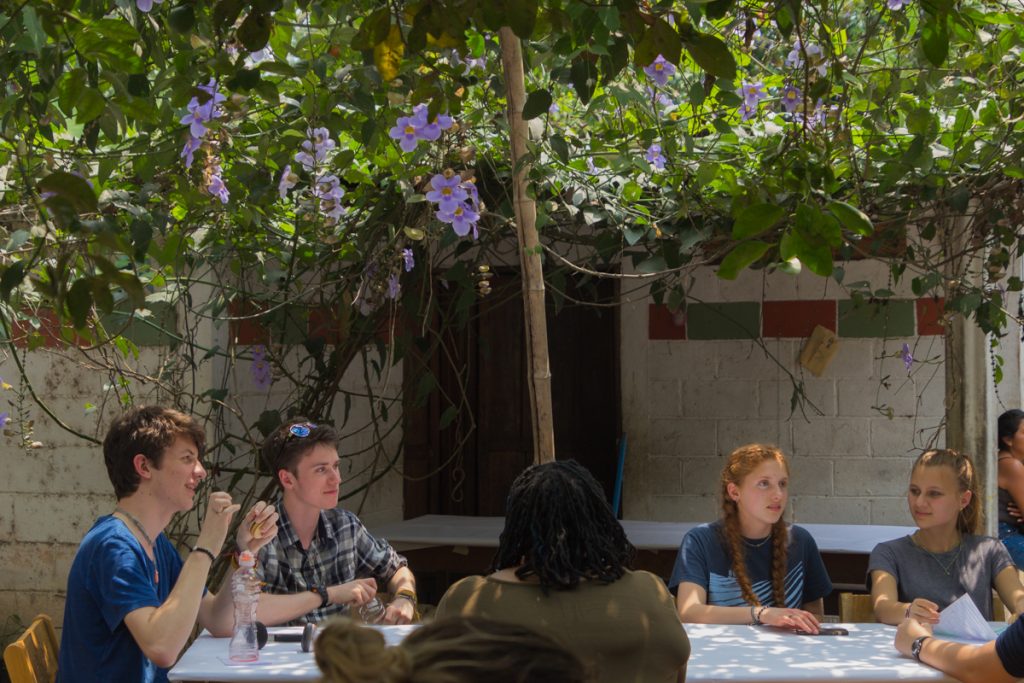 The Chicken Pepian had been cooked by one of the women working at the Wakami Collective. The Wakami Collective provides work for women in rural Guatemala and connects the goods they produce to world market. Read about the inspiring experience our group had with the women of Wakami).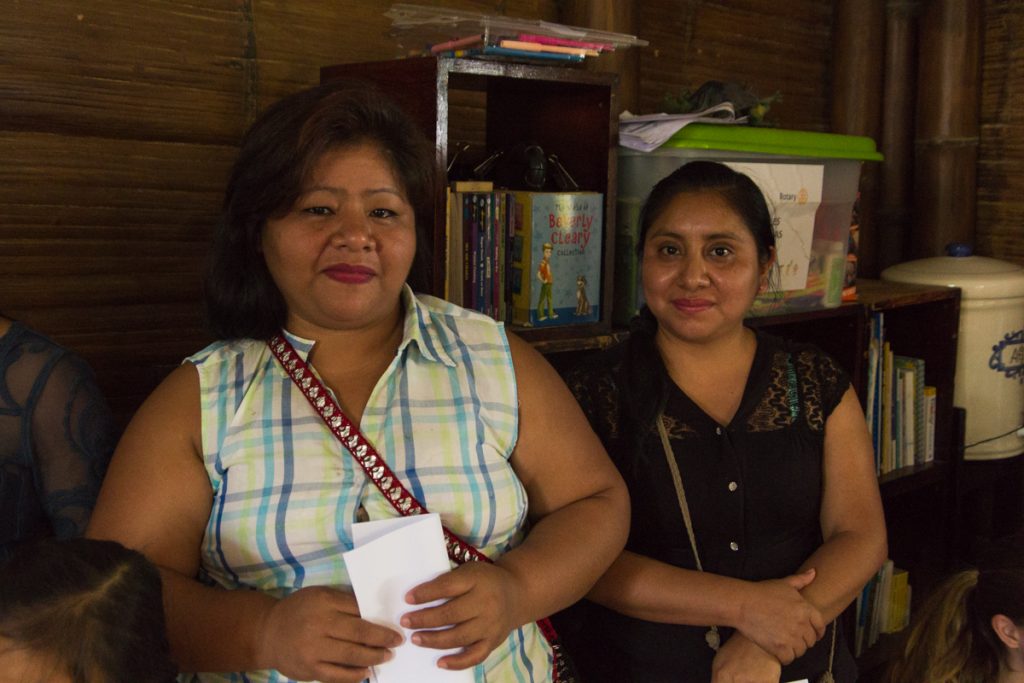 So when I returned home, I scoured the internet for Chicken Pepian recipes and started cooking.  Based on a little experimentation, I  have come up with this Chicken Pepian "mash-up" recipe below. I hope you try it and like it.
Modern Church Lady Chicken Pepian
Ingredients
6 tomatoes, cut in half
8 tomatillos, husks removed, cut in half
1 large poblano pepper, cut in 2-3 pieces*
1 large onion, peeled
2 (or more) garlic cloves
2 tablespoons sesame seeds
2 tablespoons hulled pumpkin seeds
1-2 oz. dried guajillo chilies, broken into pieces
.5 oz dried pasilla chilies, broken into pieces
1 thick slice of French baguette, toasted
4 sprigs fresh cilantro
2 black peppercorns
6 cups chicken broth
¼ cup olive oil plus 2 Tb for cooking chicken
1 chayote, cut into 8 pieces
4 potatoes (or sweet potatoes) peeled and thickly sliced
2 large carrots, thickly sliced
1 cup fresh corn kernels
1 3 ½ lb. chicken cut into 8 pieces or equivalent amount of bone-in and skin-on chicken thighs and/or legs
*Don't worry about seeds, they will be strained out later
Instructions
#1. Heat 2 Tb. Olive oil in a large skillet over medium heat. Season the chicken pieces with salt and pepper. Add to skillet and brown on both sides. Continue to cook until the chicken is half done, about 10-15 minutes. Remove from pan and set aside.
#2. Put tomatoes, tomatillos, poblano pepper, onion and garlic in a roasting pan under the broiler and roast until the vegetables are slightly charred.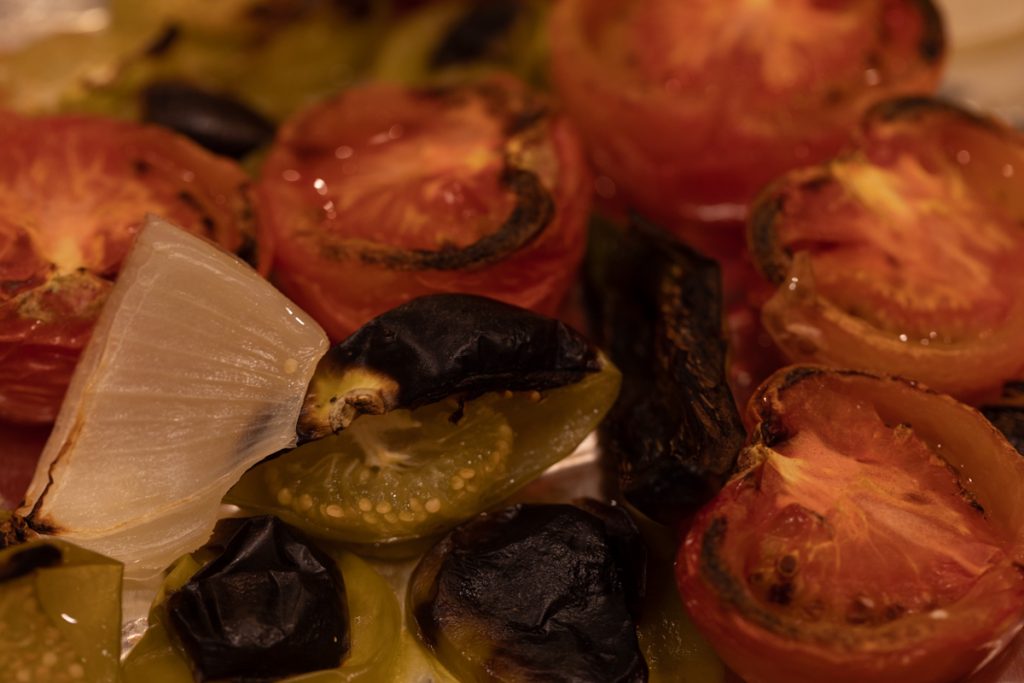 #3. Place sesame and pumpkin seeds in a pre-heated hot skillet and stir until seeds are slightly toasted. Remove from heat.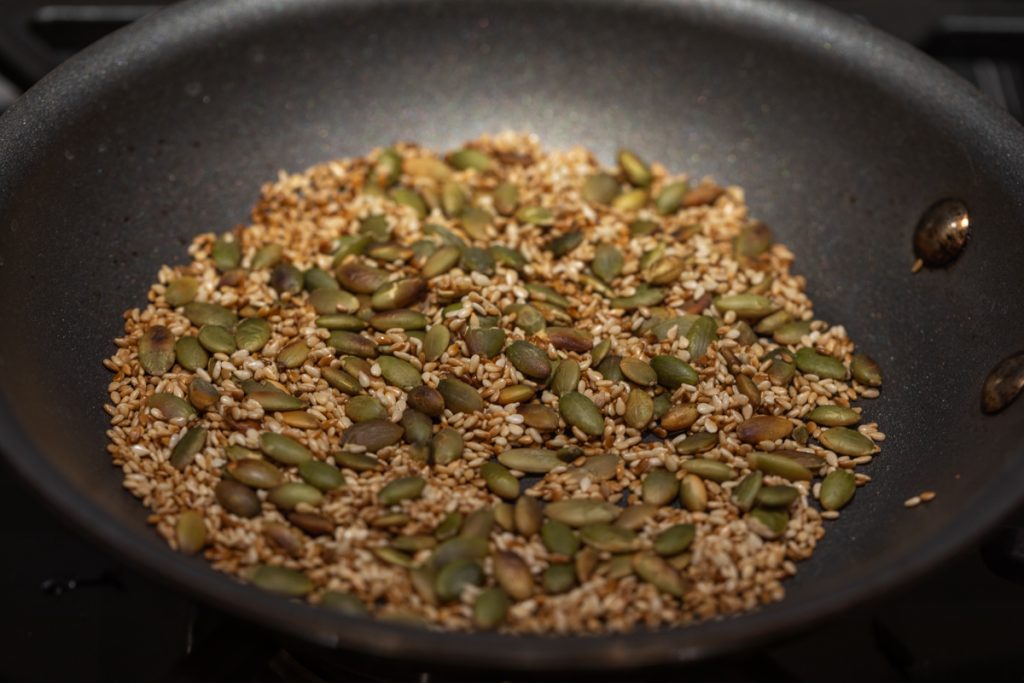 #4. Place toasted baguette slice, tomatoes, onion, garlic, toasted sesame and pumpkin seeds, guajillo and pasilla chili pieces, cilantro, salt and black peppercorns into a blender. Pulse to chop until smooth. Pour 3 cups of chicken broth into the blender and puree again. You may need to do this in two batches.
#5. Strain the blended sauce through a sieve and pour into a large saucepan. Stir ¼ cup olive oil and the remaining 3 cups of Chicken broth into the sauce. Cook sauce over medium-high heat, bring to a boil and cook for 3 minutes.
#6. Stir in chayote, potatoes, carrots and corn.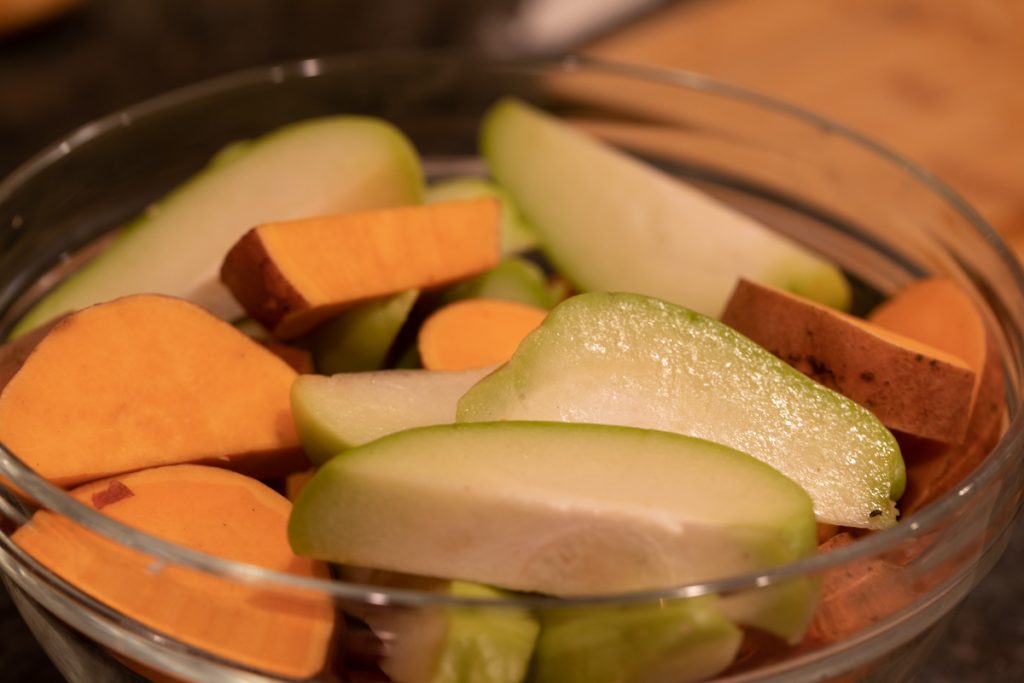 #7. Add chicken to saucepan. Cook until chicken and vegetables are done, about 30 minutes.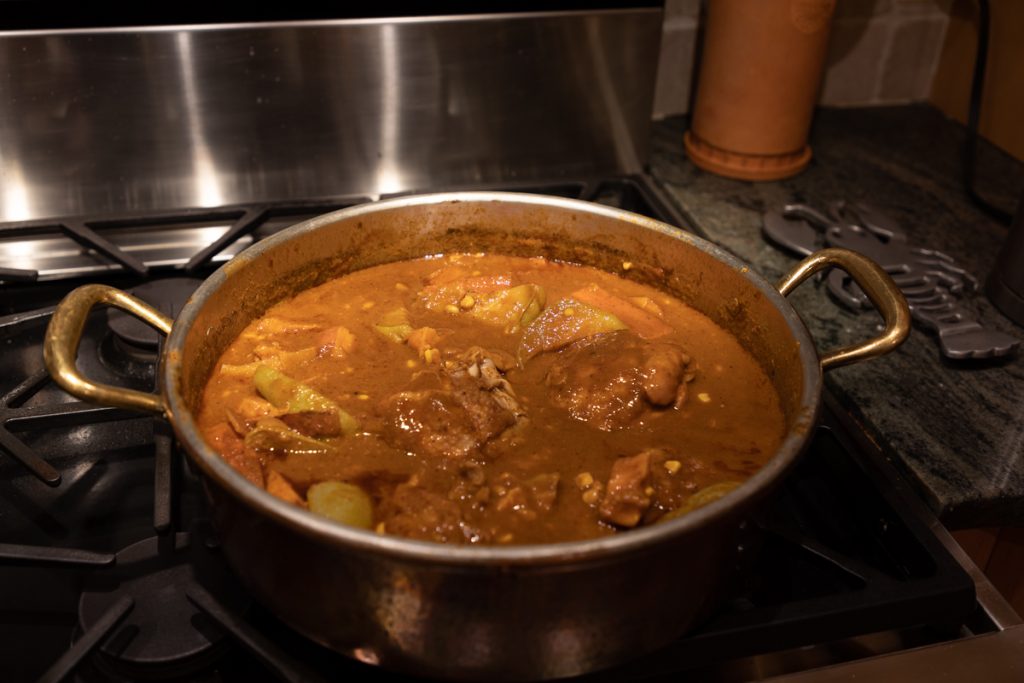 #8. Serve over white rice or over quinoa, if you are following a low carb diet.
Recipe adapted from: Allrecipes and Dining for Women
Make ahead suggestions:
If I am hosting my book club or anything else on a weekday night, I find it easier to make the sauce ahead of time and then cook the chicken and vegetables on the day my guests are coming over. The sauce (steps 2-5) can be made 1-2 days ahead of time and kept in the refrigerator (or freeze for a later date). Cook chicken (step 1). Add chicken and vegetables (step 6).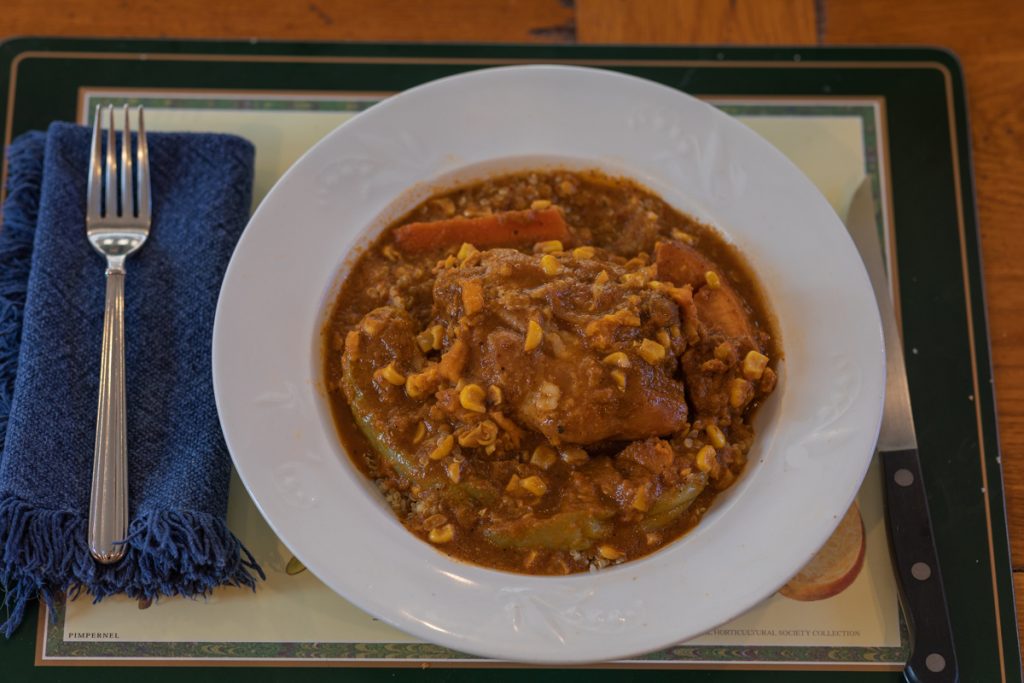 Ingredient Know How
Chayote: 
A Chayote (pronounced chahy-oh-tee) is a light green, pear-shaped fruit with a single, large pit and edible flesh and skin. The flesh of the chayote is mild in flavor. It has a texture somewhere in between a potato and cucumber. Although technically a fruit, chayote is often used more like a vegetable in Latin cuisine. I found my chayotes in a local Shop Rite supermarket but they are also available in Whole Foods. Source: The Spruce Eats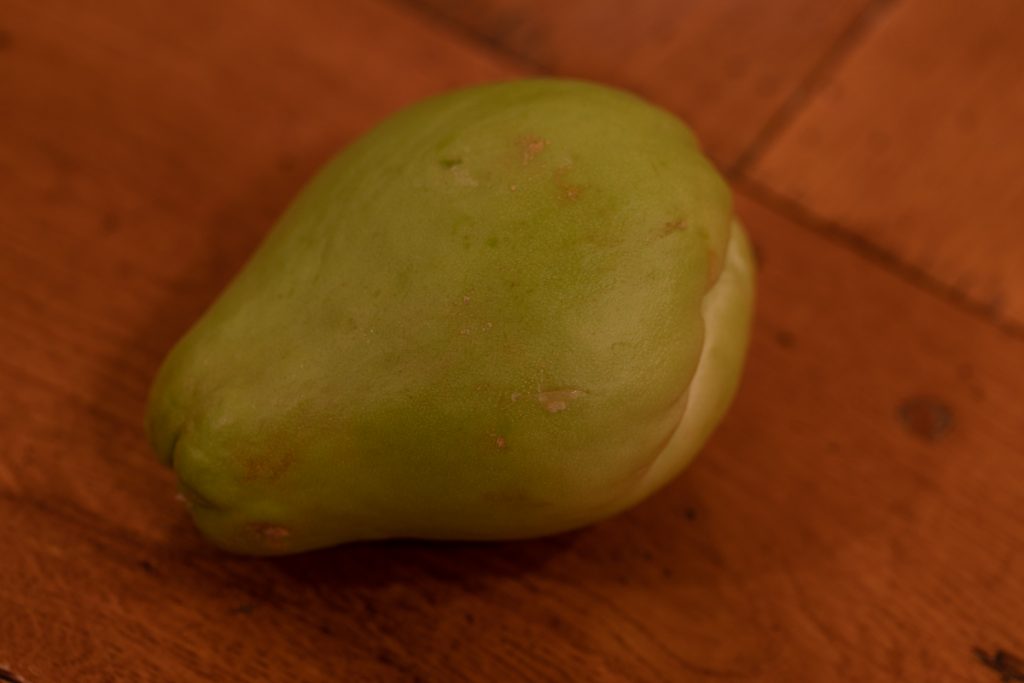 Guajillo and  pasilla chilies
I got my dried chilis at a Mexican airport but they are readily available at Whole Foods.