#ChangeTheNarrative T-Shirts
Frustrated by all the negative anti-immigrant talk? Wish there was more dialogue about all the positive contributions immigrants make to the United States? Want to do something to #ChangetheNarrative?
Well now you can!  Support of immigrants by wearing one of the #ChangeTheNarrative T-shirts created by menswear designer, Sylvian Hyde, himself a political asylee from Belize. The Modern Church Lady is teaming up with Sylvian Hyde Menswear to launch a line of talk-worthy T-shirts highlighting the many varied contributions recent immigrants are already making to American society.
By wearing a Modern Church Lady #ChangeTheNarrative T-shirt you will start a conversation about Edafe Okporo, a dynamic immigrant rights activist and author from Nigeria who has published two books. Or about the fashion innovator, Sylvian Hyde, from Belize, who has launched three menswear collections. By wearing a #ChangeTheNarrative T-shirt you will help replace the false, toxic rhetoric with inspiring and true stories about immigrants and asylum seekers.
For every T-shirt purchased, the featured asylee will receive $5.00.
THE T-SHIRTS
The inaugural #ChangeTheNarrative T-shirts feature two recent asylees, Edafe Okporo and Sylvian Hyde. Read their stories below. Designed by Sylvian Hyde Menswear, the T-shirts reflect the label's  contemporary eclectic design aesthetic 
The T-shirts are made of 100% cotton and are available in 5 sizes and two colors.  Priced at $35.00 per shirt, each T-Shirt you buy will help fund the featured asylee's hopes and dreams to become contributing members to the U.S.A. and help #ChangeTheNarrative about immigrants and asylum seekers. For every T-shirt purchased, the featured asylee will receive $5.00.
About Edafe Okporo
After an angry mob dragged him from his apartment and threatened to kill him for being gay, Edafe escaped his Nigerian homeland to seek asylum in the USA.
Since being granted asylum in 2017,Edafe has been in perpetual motion.  He works full-time as the Executive Director of the RDJ Refugee Shelter in Harlem NYC.In his "spare" time, he has written two books about his experience in the US detention system and his African childhood, starred in a one-man play and hosts a regular podcast. Edafe's works have been featured by the New York Times, CNN, Yahoo and Buzzfeed.
About Sylvian Hyde
Sylvian was forced to flee his native Belize when he came under gunfire for daring to pursue a case against the police officers who stole over two thousand dollars from him. Seeking asylum in the USA, Sylvian spent 11 months in immigration detention where he created his first designs, fashioning an artist's palette from colored newspapers and water.
Granted asylum in August 2016, Sylvian scraped together the resources to launch his eponymous menswear company, Sylvian Hyde. He threw his first fashion show during Men's Fashion Week 2018 to rave reviews.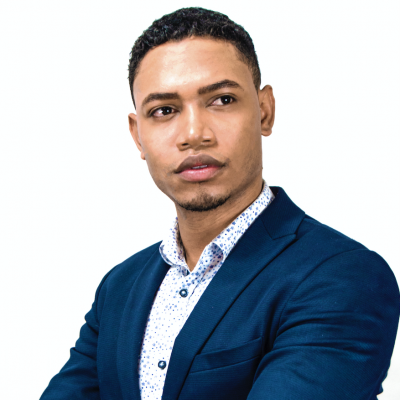 About Sylvian Hyde Menswear  Sylvian Hyde was founded to inspire men to unearth their personal style with bespoke fashion featuring an eclectic color palate and contemporary masculine tailoring. Designed and produced in the United States, Sylvian Hyde designs trace their roots to the great ancient Mayan civilization of Sylvian's Central American roots. Ready-To-Wear collections and exclusive limited-edition releases are available at their digital flagship store.